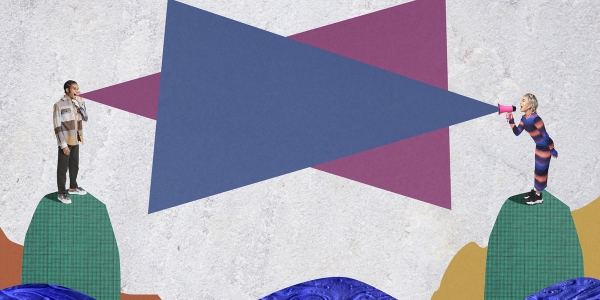 Dialogic teaching: why it is still relevant in the digital age
DTeaching logic has been around for decades – you probably remember covering it in your teacher training. Some call it 'teacher talk', but it is essentially a conversation-based approach to teaching and learning (see box).
But is it still relevant for teachers today?
According to Professor Rupert Wegerif, this is definitely the case – more so today than ever.
However, he thinks he needs an update.
Through the Digital Education Futures Initiative (DEFI), which he leads at the University of Cambridge, Wegerif has made it his mission to bring dialogic education into the digital age. This is important, he says, because education should be about using global networks to expand knowledge, rather than working toward final assessments.
"Education should not be about passing exams, but about expanding the dialogical space. Teachers and students need to develop their ability to hold different ideas together, to explore and become aware of a range of ideas," he explains.
Bringing this approach into the digital age, he says, means creating a number of opportunities for students to connect with others around the world and share learning experiences virtually.
"It is rewarding for people to participate in global debates. I believe that we should see education conceptually; it should be about joining those broader dialogues and facilitating that," he says.
The internet makes it easier, he points out: whatever your interest, you can explore and enhance it by joining online research communities and working with others to expand your knowledge. These links are not only important for students, but also for teachers. This is where the DEFI can help, he says.
Learn across networks rather than in isolation
While still in its infancy – the initiative was launched last year – DEFI is working to introduce a range of programs that teachers and students can use for free.
The first is CamTree, the Cambridge Teacher Research Exchange, a global platform for teachers to research together, share their practice-based research, and discuss their experience and expertise with others.
"It exemplifies the principles of education that I'm talking about, which is empowerment in the sense that everyone can have a voice and can share with others," he says. "But it's also about networking and building communities. It is about learning through networks rather than in isolation.
The second is the Cambridge Open Web of Learning, which is suitable for primary and secondary school students. Wegerif is still trying to get funding for it, but if he can, he thinks it could transform everyday schooling.
The idea is that a group of students from different parts of the world can come together to tackle a particular issue – whether global or local – through a shared inquiry.
"It could run parallel to the courses or complement them," he says. "There is empowerment, differentiation and building networks. It could strengthen global citizenship and encourage students to work towards a more peaceful future where people understand each other across different cultures.
Wegerif is determined that both of these initiatives will succeed – and that's because there are already similar platforms in place around the world that schools are using.
In Japan, for example, teachers use a platform called Lesson Study to develop new programs. In the United States, the Massachusetts Institute of Technology has a platform called Scratch, which encourages kids to code and share the games they create with their peers – currently there are 92 million registered users.
The success of these models could be replicated in the UK, he says, which is exactly what Cambridge Open Web of Learning aims to do.
Obstacles Schools Must Overcome
However, there are hurdles that schools will need to overcome when introducing digital dialogic learning.
The first is protection: unregulated online communities can pose risks to young people, and many schools are already struggling to manage this, without adding new platforms to the mix.
Wegerif acknowledges that this is a real problem and says standards and regulations need to be in place in the industry. At DEFI, researchers are trying to protect children through a program called "Inquiring Online," which educates elementary school children on how to think critically and assess the quality of websites. It's really important to do this work with younger children, he adds.
The next hurdle is access to devices that facilitate this work. It's a funding and infrastructure issue, he says – and thanks, in part, to Covid, it's become clear that internet access needs to be a basic national service.
While teachers can't control this, they can do things like encourage students to bring their own devices to class, or connect with global communities as a whole class or in small groups, rather than as as individuals, to ensure that everyone has the opportunity to engage, he adds.
The third and final hurdle is ensuring teachers have the confidence to incorporate digital dialogic learning into their lessons. But in reality, teachers are more experienced than they think in this approach, he says.
"In education, there is a long tradition of being part of large active networks that talk together. This is where CamTree comes in: if teachers could join their peers and learn from those who are more expert, ask them for their opinion and how to try something, it would be a way for teachers to build that confidence" , did he declare. said.
Wegerif, clearly, is very passionate about the role that digital dialogical learning must play in education in the future. He strongly believes that there is an appetite for a system that moves away from exam preparation and towards peer-to-peer learning networks.
"There is a lot of pressure from the world of work, parents and students, to switch to dialogical learning – because of the lifelong skills it fosters. I don't see change happening very quickly in the UK, but countries like Scotland and Wales are very innovative in terms of the kind of skills and arrangements needed for the future," says- he.
"Personally, I would say that in terms of change, revolutionary change is very disruptive for everyone, and it's unlikely to happen. But the change we advocate is more evolutionary: we want to increase learning; we want digital dialogical learning to enhance and support teacher and student education.